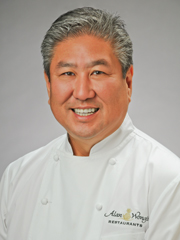 From: Akasaka, Japan & Wahiawa
Graduated in: Culinary Arts
What was your favorite food when you were a child?
Mom's tamago kake gohan, miso soup, and gyoza
What is the most rewarding aspect of being a chef?
Making people happy, and being able to teach and develop others
If you could be any fictional character, who would you choose?
Curious George – I was born in the year of the Monkey, I've always been curious.